BIO/CV
Hadley Nunes
b. 1980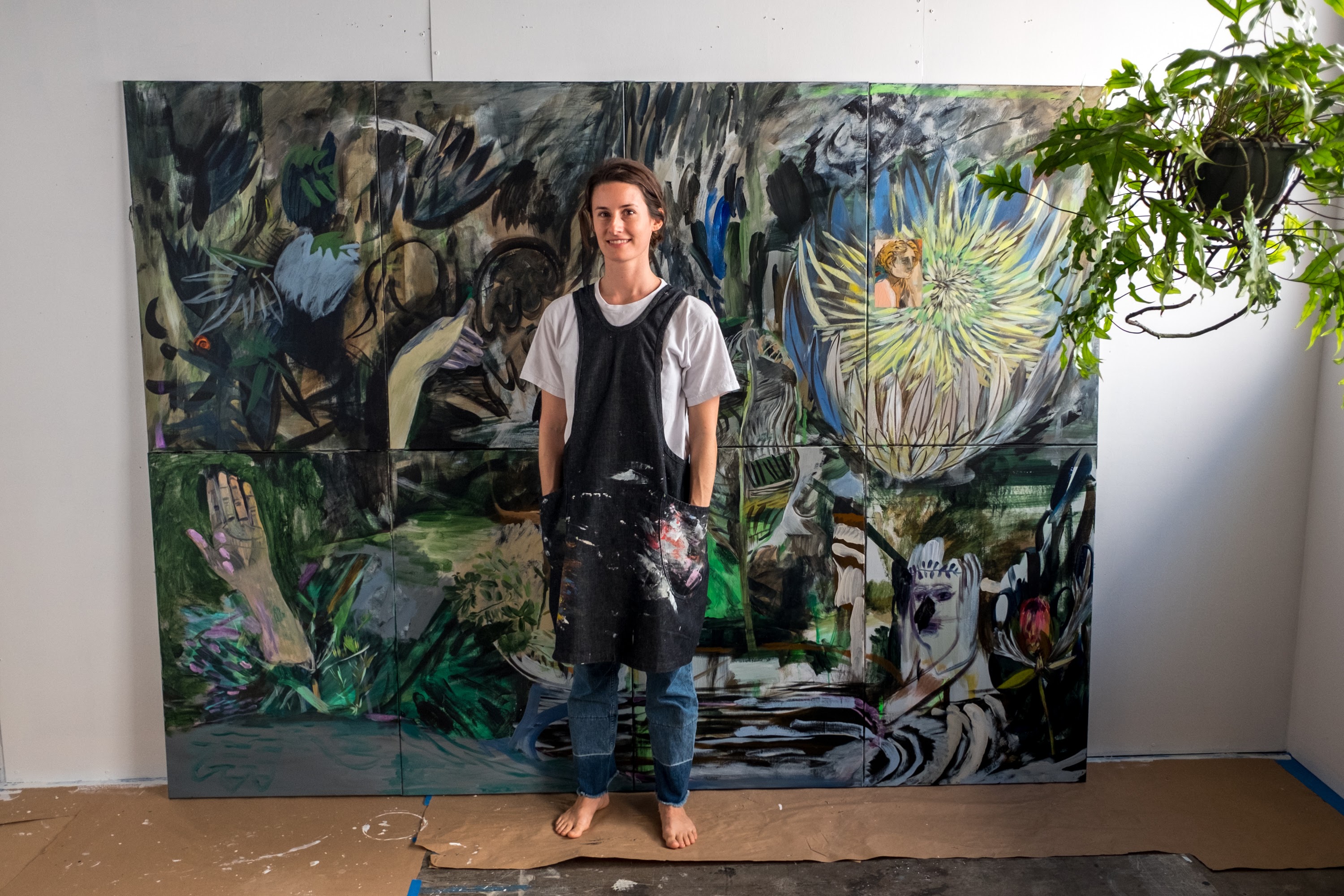 Hadley Nunes' work includes painting, performance and curation. She exhibits internationally and is part of The William Louis-Dreyfus Foundation collection in Katonah, New York. Nunes has participated in residencies for both performance and visual art in the United States, France and Japan. Her studio is located at Lana Lane Studios in Honolulu, Hawaiʻi where she is a founding member.

In 2019 Nunes was invited to the headquarters for virtual and augmented reality at Google to participate in a one-week artist residency. As one of their inaugural artist-in-residence Nunes created a permanent mural onsite and spent the week sharing her practice with team members and experimenting in VR to create a three-dimensional painting.

Since 2014 Nunes has been a mentor to young artists in Hawaiʻi. She founded and curated an art residency called Present Project in 2014 which facilitated new work by world-renowned artists; lectures and open studios for the public; and educational programming—including scholarships for student participants. She continues to mentor young artists through her studio at Lana Lane.

In 2019 Nunes had her first museum solo show with the Honolulu Museum of Art at First Hawaiian Center. She also joined alumni from The New York Studio School of Drawing, Painting & Sculpture for a bicoastal show curated by Karen Wilkin last year. Coast to Coast was exhibited at the Berry Campbell Gallery in Chelsea, New York and the Paul Thiebaud Gallery in San Francisco, California.

Nunes has exhibited locally in group shows at Aupuni Space, Cedar Street Gallery, Honolulu Museum of Art, Honolulu Museum of Art School, Marks Garage, and Pegge Hopper Gallery. She was a fellow at the Virginia Center for Creative Arts and artist-in-residence at the Vermont Studio Center, The Elizabeth Foundation for the Arts, and The Watermill Center.


CV

CURRENT
Google Artist Residency, mural on view, Daydream, Mountain View, CA: January 2019 - present
The Louis-Dreyfus Family Collection, paintings on view, Katonah, NY: May 2011 - ongoing
PRESENT Project 2.0, Summer Internship Program, Director, Honolulu: 2017 - present
PRESENT Project Artist Residency, Founder/Curator, Honolulu: 2014 - present
Lana Lane Studios, Founding Member/Artist, Honolulu: September 2013 - present

EDUCATION
New York Studio School of Drawing, Painting & Sculpture, New York: 2007 - 2011
MFA, September 2009 - May 2011
NYSS Orvieto Summer Drawing Marathon, Orvieto, Italy, June 2009
Certificate Program, September 2007 - May 2009

Smith College, Northampton, MA: 1998 - 2001
BFA, September 1998 - May 2001
San Francisco Art Institute, Smith College Junior Year Exchange Program, San Francisco, CA: September 1999 - May 2000

Hawaii Pacific University, Honolulu: September 1997 - May 1998

RESIDENCIES
Google Artist Residency, Daydream, Mountain View, CA: January 2019
Alliance of Artist Communities, Emerging Program Institute, Participating Founder/Curator of PRESENT Project, Detroit MI: June 2014
Virginia Center for the Creative Arts, Fellow, Amherst, VA: August - September 2012
'Iolani Palace, Resident Artist/Producer, Honolulu: October 2011 - January 2012
Vermont Studio Center, Artist-in-Residence, Johnson, VT: August 2010
The Old American Can Factory, Working Artist/Resident Artist, New York: August 2005 - September 2008
Park Avenue Armory, Participating Artist/Collaborator with Moving Theater (MT), New York: September 2008
The Elizabeth Foundation for the Arts, Participating Artist/Collaborator with MT, New York: January 2007
La Générale, Participating Artist/Collaborator with MT, Paris: November 2006
Watermill Center, Participating Artist/Collaborator with MT, Long Island, New York: September - October 2006
Sankai Juku Performance Workshop, Participating Artist, Toyama, Japan: June - July 2006
Yoshito Ohno Studios, Student, Yokohama, Japan: July - August 2006

EXHIBITIONS
Into the Fourth, Honolulu Museum of Art, solo show, First Hawaiian Center, Honolulu: July 10 - December 20, 2019
Coast to Coast, currated by Karen Wilkin, group show, Paul Thiebaud Gallery, San Francisco, CA: October 1 - 26, 2019
Coast to Coast, currated by Karen Wilkin, group show, Berry Campbell Gallery, NYC: July 11 - August 2, 2019
Flowering in Conversation, Halekulani Hotel, Honolulu: June - September 2018
Drawings; A Group Show, Exhibiting Artist, ARS Gallery, Honolulu: December 2017
Group Show, Aupuni Space, Honolulu: February 2017
Within/Without, Collaborative exhibition/Exhibiting Artist, Pegge Hopper Gallery, Honolulu: April/May 2017
Honolulu Magazine Fashion Week, Exhibiting Artist, Honolulu: November 2015
Surfrider Spirit Sessions Group Show, Exhibiting Artist, Honolulu: October 2015
Fall, Exhibiting Artist, Cedar Street Gallery, Honolulu: October 2015
Exquisite Corpse, Collaboration with Hawai'i-based artists, Honolulu Museum of Art, Honolulu: March 2015
CONTACT, Exhibiting Artist, Honolulu Museum of Art School, Honolulu: April 2014
Lana Lane Studios Exhibit, Curator/Exhibiting Artist, Marks Garage, Honolulu: March 2014
Still Life Arrangements & Layers in Time, Exhibiting Artist, Hawaiian Airlines, Honolulu: February/March 2014
Still Life from 6 - 8, Artist/Producer, The Old American Can Factory, Brooklyn, New York: October 2013
HADLEY NUNES: PAINTINGS, Artist/Producer, Art at the Vanguard, Honolulu: January 2012
1+1=3, Thesis Show, New York Studio of Drawing, Painting & Sculpture, New York: May 2011
Raritan Valley Community College Group Show, Exhibiting Artist, North Branch, NJ: October 2010
Drawings & Portraits, Exhibiting Artist, Patton Boggs LLP, New York: February 2010
Manufacture Beaux Arts Ball, Exhibiting Artist, The Architectural League of New York, New York: June 2009

PERFORMANCE
IT'S MY PARTY, Participating Artist/Collaborator with Moving Theater (MT), Greenwich Music Festival, Greenwich, CT: June 2007
59 (sixty minus one), Collaborator with MT, Elizabeth Foundation for the Arts, New York: January 2007
Sixty, Collaborator with MT, La Générale, Paris: November 2006
Mass Particle No. 1, Participating Artist/Collaborator with MT, Abrons Art Center, New York: October 2006
Spiral, Performer with Sankai Juku, Toyama Cultural Center, Toyama, Japan: July 2006
Light Movement, Choreographer/Performer, Design within Reach, New York: April 2006
For Edith, Choreographer/Performer, Galapagos Performance Space, New York: April 2006
C.A.R.O.U.S.E/L, Performer with Vangeline Theater, PS 122, New York: March 2006
Stations of the Coffee, Participating Artist/Collaborator with MT, Time Warner Center, New York: September 2006
Hadley's 60, Collaborator with MT, The Old American Can Factory, Brooklyn, NY: August 2005
Yoga Beyond the West; Traditions & Practices of the Char Dham Pilgrimage from Haridwar to Gangotri, Participated in pilgrimage, Uttarakhand, India: May - June 2005
Dreams, Choreographer/Performer, Cave Performance Space, Brooklyn, NY: September 2005
Babble, Participating Artist/Collaborator with MT, Performance Mix Festival, Joyce SoHo, New York: May 2004
IN PUBLIC, Choreographer/Performer, Pátzcuaro, Mexico: December 2003
Pillow Tale, Choreographer/Performer, Puffin Room, New York: April 2003
1945: Sa Coia; A Sardinian Tale, Performer with Guido Tuveri Dance Company, Joyce SoHo, New York: January 2003

LECTURES
Debunking Preconceptions: Art from Hawaii, New York Studio School of Drawing, Painting & Sculpture Lecture Series, NYC: December 2019
Honolulu in the Global Perspective, Panelist, The Honolulu Biennial Foundation, Honolulu: October 2014
PRESENT Project; Swoon and Guilds, Founder/Curator, The University of Hawai'i Department of Art and Art History, Honolulu: September 2014
Still Life Painting at 'Iolani Palace, Resident Artist/Presenter, 'Iolani Palace, Honolulu: September 2012
Creating Structure, Presenter, Pecha Kucha at Linekona Arts Center, Honolulu: April 2012




Nunes began incorporating flowers into her painting practice shortly after she returned to Hawaii in 2011. When she began working at Paiko, a local boutique flower shop in the same neighborhood as her studio, flowers became a central motif in her work and social practice.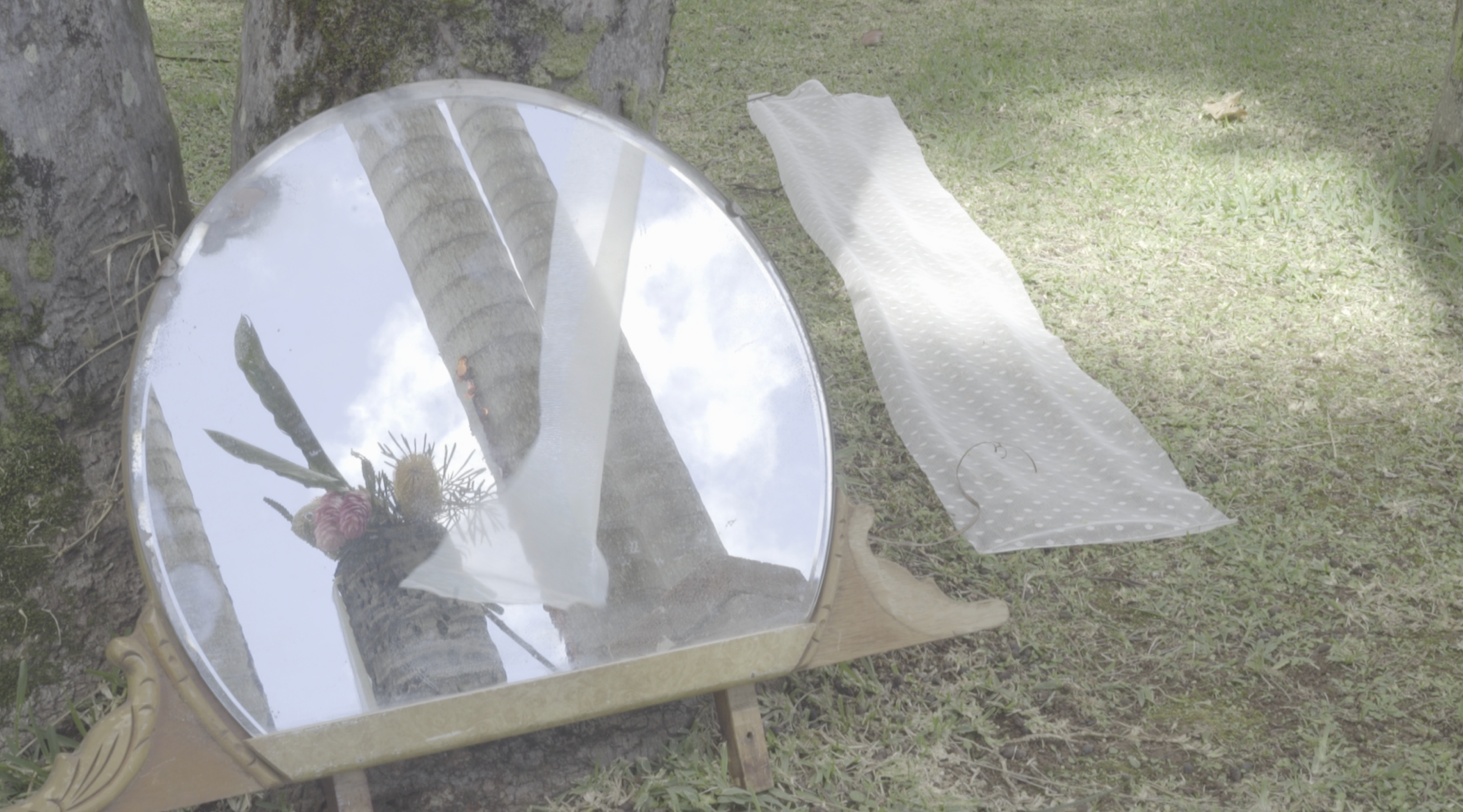 Images above include a collaboration with Maya Lea Portner, studio images by Nadia Agsen, performance captured by Jorge Atramiz, explorations in movement and installation for painting in a palm forest, Night Bloom - a painting in eight sections, and flower arranging in the studio. 2017-2018

Copyright © 2020 Hadley Nunes, All rights reserved.